PRICES, PAYMENTS AND CONDITIONS

On this pages you will find all our conditions and prices for the campsite, apartment and rental units.
We accept the following means of payment:
Cash;
Wire transfer (in advance);
Wire transfer (on site);
PayPal (ask us for the email address needed);
Paiement link provided with sms, email or WhatsApp, for the cards with logos as below;
Credit Card/mobile phone with following logos: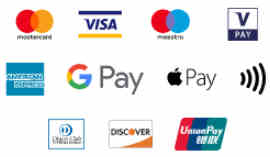 Conditions for sale, reservations and cancelations
You're accepting this conditions at the moment you make the down payment.
Right of retraction:
Based on article L. 221-28 12o of the Code de la consommation (French Consumer Rights Directive), the right of retraction does not apply on the contracts of accommodation, transport, catering and leisure provided on a certain date or for a defined period.
Down payment:
For each reservation a down payment is required of 25% rounded on 5 euros with a minimum of 15 euros. Only after reception of your down payment your reservation will be confirmed by mail.
Banking information:
Crédit Agricole IBAN FR76 1680 6004 0066 0665 7613 314, BIC AGRIFRPP868, for the attention of Toorenburgh Ronald
ING IBAN: NL32 INGB 0005 3070 90, BIC INGBNL2A for the attention of R.A. Toorenburgh
Conditions for cancelation :
Each cancelation has to be done with registered letter with acknowledgement of receipt or by email to the email address This email address is being protected from spambots. You need JavaScript enabled to view it.. In case of cancelation by email, the cancelation will be only definitive after confirmation from us by email.
Cancelation fees:
Cancelation 14 days or less before the arrival date
No restitution of down payment
Cancelation between 15 and 30 days before the arrival date
50% restitution of down payment*
Cancelation more than 30 days before the arrival date
Complete restitution of down payment*
*except for the reservation/cancelation fees of 15 euros.
In case of cancelation on our side in case of "force majeur" you will get full refund of the down payment. This cancelation does not incur any damages and interest compensation.
Delayed arrival:
In case of delayed arrival you will need to inform us before 12.00 hours on the day following the scheduled arrival date, otherwise your reservation will be cancelled.
Unavailability certain services:
One or more services we provide may be temporarily unavailable during all or a part of your stay. Our liability cannot be engaged on this point, no restitution partially or total of the price of your stay will be given.
Conflict/reclamation:
All reclamations have to be made in writing and send to us by registered letter with acknowledgment of receipt within 20 days of the end of your stay. In case of conflict and in absence of amicable settlement within the month following the reception of the registered letter of complaint, you can contact free of charge a consumer mediator, under the condition that this mediator is chosen within one year after sending your registered letter of complaint. By default we provide the following consumer mediator: CM2C - Adress: 14 rue Saint-Jean 75017 Paris - Internet site: https://www.cm2c.net - Contact by phone +33 6 09 20 48 86.
DISCOUNT CYCLO LES COPAINS
https://www.cyclolescopains.fr/

In the weekend of the «Cyclo les Copains» we offer you a discount of 10% on the prices per night (excluded electricity and tourist tax). This discount is applicable from 01/07 till 09/07.

(This discount will not accumulate with other discounts.)
EARLY BOOKING DISCOUNT

Make your reservation 3 months in advance and we will offer you a discount of 10% on your stay (excluding electricity and tourist tax).

(This discount cant be combined with other discounts.)